We've cleared enough snow out of our walkways and driveways over the decades to realize that, short of moving to Arizona, dealing with snow is a given in any northern clime. We've also learned that we want a snow clearing unit that is efficient and durable, plus versatile enough to handle the frequent three-inch fluff as well as powerful enough to chew up the 20-inch residue of a howling nor'easter. So, when we had the opportunity to test out Toro's Power Max 826 OXE we took it with the idea that we could clear built-up snow pack around our property.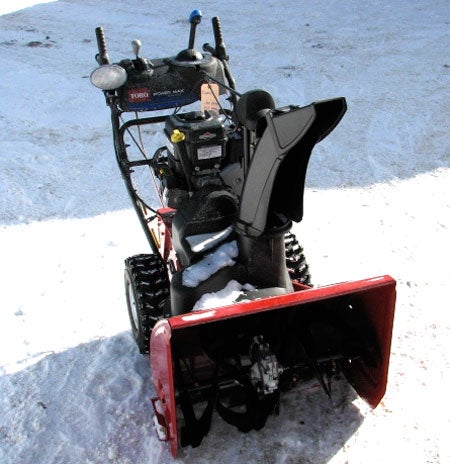 The bottom line is simple. This Toro proved impressive and about as friendly to operate as any snow-clearing device we've ever used. While we won't say that clearing snow ranks high on our list of homeowner chores, owning this Toro two-stage snow blower could put us on an equal footing with winter. Powered by a Briggs & Stratton 250cc Snow Max four-stroke and equipped with Toro's Power Max serrated 14-inch main auger, the Toro proved eminently capable of satisfactorily chewing up all kinds of snow.
We pointed the unit toward hard-packed snow bordering our driveway and along the walk. Using the first of the six-forward speeds, we eased into the snow and smiled appreciatively as the main auger bit into the snow bank, fed the crusted pack to the 12-inch secondary impeller and let it fly up the poly chute to let it land dozens of feet away.
The Power Max Auger system exhibits innovative Toro engineering. This thinking goes beyond mounting a snow-chewing 14-inch auger in the main snow collection housing to include a clever way to keep snow from building up and plugging the chute. Toro engineers created a patented and exclusive dome-shaped housing around the impeller that actually returns snow to the main auger to be regurgitated and spit back out. Since the housing is made of a high-density polyethylene, the surface is naturally slick to minimize snow sticking to it and causing the chute to plug up. This is especially useful when clearing wet, early spring snows. The chute's high-impact poly material won't rust. Toro feels this feature is so durable that it comes with a separate 5-year warranty. The main warranty is three years for limited coverage on the rest of the Power Max 826.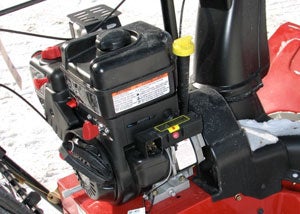 You'll find engineering prowess in the commercial-grade auger gearcase. This heavy-duty gearcase operates without shear pins because it is rugged enough to actually withstand stalling out the motor if it encounters serious yard debris.
We found the "trigger" operated freewheel steering much to our liking. On other snow blowers we've had to remove a pin to induce freewheeling, but the Toro Power Max 826 lets you pull on a handlebar "trigger" mechanism to free one wheel while the power is directed to the opposite one. This system lets you turn the 222-pound unit in its own width — excellent for maneuvering on walkways.
Another feature we took to right away was the Quick Stick chute control. Looking and responding like an arcade or video game joy stick, this left hand-mounted device lets you move the discharge chute from side to wide while you raise or lower the snow deflector.
The Power Max 826 OXE comes with a standard headlight, electric start and an ability to clear 1,900 pounds of snow per minute. But, what you'll appreciate the most is the user-friendly character of this unit and the knowledge that its quality construction and durable components mean you can count on it being ready snowfall after snowfall.
Engineered and manufactured in Minnesota, the Toro Power Max series of two-stage snow blowers showcases creative engineering, exceptional build quality and the experience of Toro's 60 winters of helping snow country homeowners keep their walks and driveways snow-free.
Related Reading
Toro Power Max 1028 LXE Review
Toro Power Clear 180 Review
Toro Power Clear 210R Review
Toro Power Clear 421Q Review
Toro 1800 Power Curve Review
All Things Toro on Snowblower.com