This intermediate two-stage snowblower is a perfect fit for any household needing a heavy-duty snowblower, without the large price tag. The Simplicity I924E offers an excellent blend of quality and power to ensure that you are never left holding the shovel in the midst of a record snowfall.
The dual-stage Simplicity I924E uses a 4-cycle OHV Briggs & Stratton Snow Series engine, which produces an impressive 9 ft.-lbs. of torque. With an electric start, as well as a backup recoil starter you'll never have an issue getting booted up in cold weather. And the .75 gallon gas tank ensures that the Simplicity I924E goes the distance without needing a refill.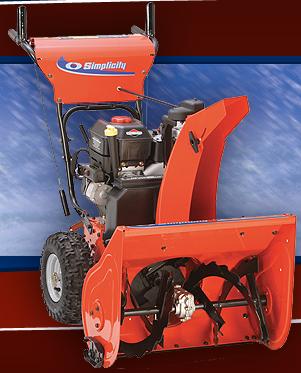 The 24-inch clearing width is an improvement over smaller models, and will cut down on the time it takes to clear larger areas. The intake is just under 20 inches, so large drifts are not a problem, and six forward speeds with two reverse speeds are perfect to get you where you need to be. Finally, 13-inch rugged tires provide great traction on all types of terrain so you never have a slip-and-slide snowblower.
 Structurally, the 12-inch diameter auger is made from stainless steel – so hard packed snow and ice is never a problem. Four impeller blades located behind the auger quickly and efficiently move snow up the chute, which can rotate 200 degree and throw snow 38 feet. What does all this mean? That for the price the Simplicity I924E is powerful, rugged, and gets the job done. Enough said.