Remember that time when that first big snow hit and you rushed to the store for a snow shovel? Either you couldn't find one, because everyone else who didn't have a snow shovel got there first, or they were ridiculously expensive. Then you got home and spend an hour shovelling, only to tell yourself that next year you're going to get a snowblower. Well, instead of waiting until you absolutely need a snowblower, perhaps you should learn when is the best time of year to buy a snowblower so you don't end up in the same predicament.
Best Time to Buy #1 – End of Winter
At the end of the season most stores are anxious to rid themselves of winter stock in order to make room for spring and summer fare. So, if they have too many snowblowers kicking around they will likely want to clear them out. This is definitely a good time to buy a new snowblower, although you may find that there isn't a wide selection. Plus you won't have the fun of using it for another 9 months or so. However, you can save up to 50% off (sometimes more), which means more cash for other fun seasonal items.
Best Time to Buy #2 – Early/Late Fall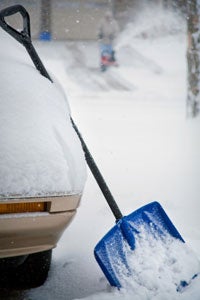 While most people wouldn't think to buy at this time, the fact is that many stores use this time to clear out last year's stock in order to make rooms for this year's models. Make the rounds and see which dealers are planning a sale; you may get lucky and get your new snowblower for much less than expected. Just remember that you may be getting a model that is a year or two old, but is still "new" and under warranty.
Best Time to Buy #3 – Spring & Summer
You probably won't find a lot of stores in your area selling snowblowers during the milder months, but that doesn't mean they aren't out there. Go online and see if your favorite stores have a clearance section on their website, or look for other online snowblower sellers. If you can get a good deal on shipping it may be worthwhile to pick up your new machine over the Internet.
Best Time to Buy #4 – Middle of a Mild Winter
Stores put in their snowblower orders in months in advance, so if the winter is milder than expected, or sales are slower than normal then they may have a mid-season sale on current models. You can pick up a snowblower with all the latest features and benefits, without having to pay full price. This means you'll have to keep an eye on flyers, or sign up for online alerts to ensure you don't miss out.
Worst Time to Buy – Directly Before/After Major Snowfall
Don't be like everyone else, if you think you're going to need a snowblower then don't wait until it's about to snow, or the day after. You'll just end up paying through the nose like everyone else, end up with a model that doesn't suit your needs, or you won't be able to find one at all.
Before you go (at any time of year) to buy a snowblower, get prepared. Make a list of features that you would prefer on your new snowblower to prevent impulse buying should you find an "unbelievable" deal. Decide between single-stage and dual-stage, electric or gas, how much horsepower is needed as well as how wide of a clearing area you need. This way your list can keep you grounded, and ensure you get the right snowblower, instead of just the inexpensive one. Happy hunting!