As with any product or machine, there are quality brands and there are those that should be avoided. Researching snowblower brands before you start looking for a new snowblower can save you headaches down the road and help point you in the right direction. Here are a few popular snowblower brands and their manufacturers:
Toro Snowblowers
The Toro brand has been around since 1914 and is considered one of the leaders in snowblower manufacturing. Toro has a full range of snowblower models, including one and two-stage devices, as well as electric models. Toro reviews indicate that these machines are sturdy, easy to assemble and able to handle large snowfalls with ease.
Honda Snowblowers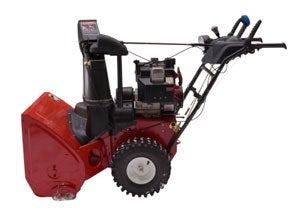 For over 40 years Honda has been producing quality heavy machinery for consumers, and its snowblowers are built to exacting standards and are some of the best available. Snowblower reviews rate Honda snowblowers highly and it should be considered one of the top snowblower brands.
Ariens Snowblowers
This brand is usually found at large outdoor supply stores, such as Home Depot. Ariens has been around since 1933 and offers larger snowblowers with clearance widths of 22 to 26 inches, perfect for those big jobs. Reviews for Ariens snowblowers indicate that it is an incredibly tough machine that can stand up to the worst Mother Nature can throw at you.
Crafstman Snowblowers
The Craftsman brand is available through Sears and Kmart, making it a popular brand for everyday consumers. From your average sidewalk clearing 20-inch model to its professional-grade 45-inch wide models, Craftsman has a snowblower to suit anyone's needs. Although a decent brand, snowblower reviews indicate that some lower-end Craftsman models have recurrent problems with drive belts and broken pieces upon delivery.
Troy-Bilt Snowblowers
This brand is normally found at Lowes and Canadian Tire stores and has been around since 1937, offering a full range of gas snowblowers including single and two-stage models with electric or recoil starters. When choosing a Troy-Bilt it is very important to check snowblower reviews, as a few models have had issues with leaky gas tanks.
Yard Machines
Manufactured by the same company who makes the Troy-Bilt snowblowers, Yard Machines mass-produces snowblowers for chains like Wal-Mart and other national stores. While offering a wide range of snowblowers, Yard Machines brands usually won't compare as favourably to brands like Ariens or Toro. However, Yard Machines offers many more affordable models.
While there are many different snowblower manufacturers, they all tend to use the same engine components (Briggs & Stratton or Tecumseh), so it's important to look at the differences between models, rather than just the engine size. Often it will be the little things – gas tanks, belt drives, etc. that will set a snowblower brand apart from the competition. Above all, make sure that a brand has positive and reliable reviews before you make a purchase, otherwise you may find yourself reaching for a shovel sooner rather than later.